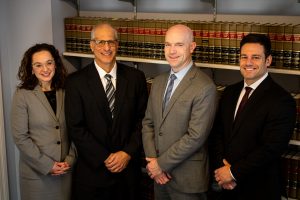 Since 1946, Saporito, Falcone, & Watt law firm has represented the citizens of Luzerne and Lackawanna Counties, offering outstanding legal counsel in the areas of personal injury, criminal defense, family law, elder law, real estate law, and business law. We've built our firm around aggressive and successful litigation, while providing individual care and attention to every one of our clients.
Originally founded by Joseph Saporito, Sr., upon his return from serving in World War II, Saporito, Falcone, & Watt have made their mark the old-fashioned way – honest work, dedication to our clients, and a proven track record of courtroom success. Today, Attorneys Samuel A. Falcone, Jr., William J. Watt III, Maura Armezzani Tunis , and Joseph F. Saporito, III continue to expand on the legacy of their past by focusing their efforts on putting the needs of their clients above everything else.
For a free consultation on your potential case, please contact us today.